Opening hours
Monday closed
Tuesday closed (open by appointment only: schools and groups min. 10 people)
Wednesday 10am-6pm
Thursday 10am-6pm
Friday 10am-6pm
Saturday 10am-6pm
Sunday 10am-6pm
Tickets museum + exhibitions
tickets € 8.00
 - concessions* € 6.00 
- schools** € 2.00 - Palladio family*** € 12.00
Guided tour
€ 80.00 (gruop max 25 people)
* members of FAI and Touring Club Italiano, over 60s, students under 25
** schools, Touring Club Junior members
*** 1 to 4 children/teenagers under 18 with two adults
Free admission: children under 6, 1 disabled person + 1 helper, ICOM members, 1 accompanying teacher per class, members of the Italian armed forces
The museum is fully accessible to people with physical disabilities. The toilet is equipped with baby changing table.
It is mandatory for the visitor to wear a facemask, to use gloves or hand sanitizers and mantain at least 1 metre distance from other visitors. The body temperature will be measured at the entrance. The access will not be allowed with a temperature equal or higher than 37.5°C.
For information and bookings
T +39 0444 323014
F +39 0444 322869
accoglienza@palladiomuseum.org
Where we are
Palazzo Barbarano
Contra' Porti, 11 
36100 Vicenza
tel. + 39 0444 323014
How to reach us
By train: take the Venice-Milan line to the station of Vicenza and then 10 minutes on foot.
By car: from Milan, Motorway A4, exit Vicenza Ovest; from Venice, Motorway A4, exit Vicenza Est; the nearest car parks are Park Verdi in Viale Verdi; Park Fogazzaro in Contra' San Biagio; Park Santa Corona in Contra' Canove Vecchie; Park Matteotti, piazza Matteotti.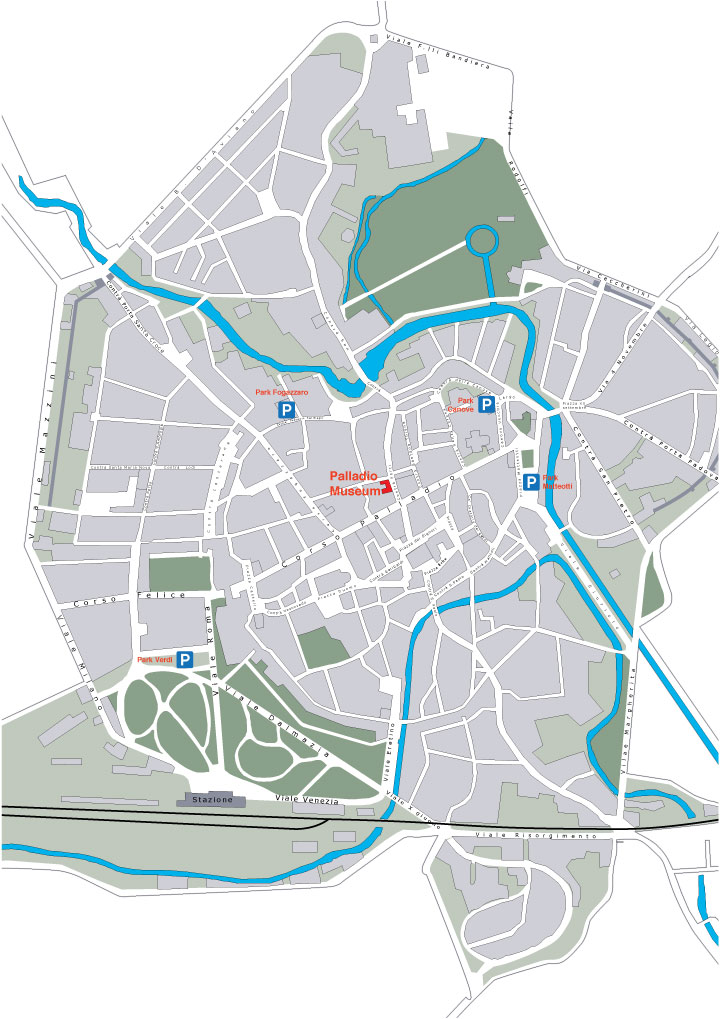 v
v
v
v