61th course on Palladian Architecture

All Palladio

Veneto, 27 August - 3 September

Guido Beltramini and Howard Burns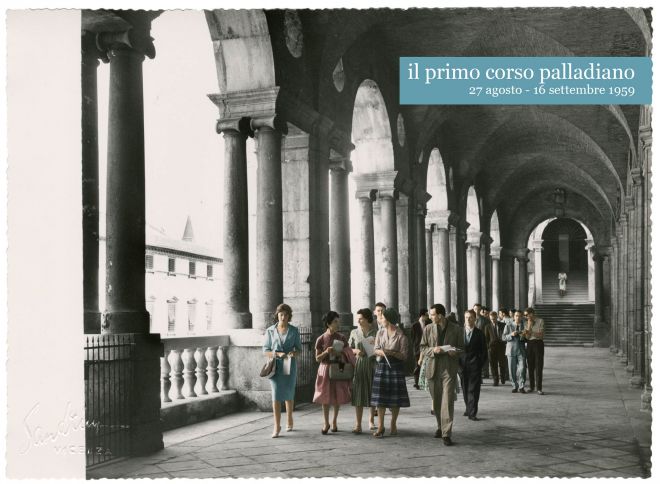 On 27 August 1959, the first Palladian Course was held at Villa Cordellina Lombardi. It involved nineteen intense days of visiting buildings with lectures by scholars such as Giulio Carlo Argan, Bruno Zevi, Rudolf Wittkower, Ernesto Nathan Rogers and Renato Cevese. Among those studying on the course were Lionello Puppi, Eric Hubala, Anna Maria Matteucci, Bernhard Rupprecht and Wladimir Timofiewitsch, while Aldo Rossi and John McAndrew had signed up but had to withdraw at the last minute.
In subsequent decades, without missing a year, the Palladian course has attracted to the Veneto region over 7,000 architectural historians, architects, engineers, art historians and students from 50 European, American, Asian and African countries.
Exactly sixty years since its memorable debut in 1959, the historic Palladian course in 2019 will be an opportunity to visit the "complete works" of Andrea Palladio: not only the best-known buildings, but also the lesser known and more peripheral ones, which are difficult to access. For this reason, the duration of the course has been specially extended to eight days so that the participants can cover the entire Palladian "territory" from Verona to Friuli.
Programma
martedì 27 agosto, Vicenza [Amedeo Belluzzi]
mattina
Howard Burns, Le opere di Andrea Palladio
Palladio Museum; palazzo Thiene, palazzo Iseppo Porto, Basilica palladiana, loggia del Capitaniato, Portale della Chiesa di Santa Maria dei Servi.
pomeriggio
casa Cogollo, cappella Valmarana, palazzo Chiericati, Teatro Olimpico, palazzo Volpe e palazzo Garzadori, palazzo Civena, cupola e portale del Duomo, monumento sepolcrale di Girolamo Bencucci da Schio, palazzo Poiana, palazzo Valmarana, palazzo Porto in piazza Castello, palazzo Thiene-Bonin Longare, palazzo Da Schio.
mercoledì 28 agosto [Vitale Zanchettin]
mattina
villa Trissino a Cricoli, villa Godi, villa Porto a Molina di Malo, villa Forni Cerato
pomeriggio
villa Valmarana a Vigardolo, villa Caldogno
giovedì 29 agosto
mattina
villa Angarano, ponte di Bassano [Francesco Marcorin]
pomeriggio
villa e tempietto Barbaro a Maser, villa Emo a Fanzolo [Fernando Rigon Forte]
venerdì 30 agosto [Donata Battilotti]
mattina
villa Zeno a Cessalto, Arco Bollani a Udine, palazzo Antonini a Udine
pomeriggio
palazzo Pretorio a Cividale, porta Gemona a San Daniele del Friuli
sabato 31 agosto [Howard Burns]
mattina
Arco delle Scalette, villa Gazzotti a Bertesina, villa Capra la Rotonda, villa Chiericati a Vancimuglio.
pomeriggio
villa Saraceno, villa Poiana a Poiana Maggiore, villa Repeta
domenica 1 settembre [Guido Beltramini]
mattina
villa Thiene a Cicogna, villa Contarini, villa Cornaro a Piombino Dese
pomeriggio
villa Foscari la Malcontenta, villa Badoer a Fratta Polesine
lunedì 2 settembre Venezia [Deborah Howard]
mattina
convento della Carità, refettorio e Chiesa di San Giorgio Maggiore, Chiesa delle Zitelle, Chiesa del Redentore
pomeriggio
Palazzo Ducale, facciata della Chiesa di San Francesco della Vigna
martedì 3 settembre
mattina
villa Trissino a Meledo, villa Arnaldi, villa Pisani a Bagnolo, villa Pisani a Montagnana [Paola Marini]
pomeriggio
Teatro Olimpico; palazzo Volpe e palazzo Garzadori; cupola e portale del Duomo,monumento sepolcrale di Girolamo Bencucci da Schio; palazzo Thiene-Bonin Longare; palazzo Porto in piazza CastelloHoward Burns, Guido Beltramini]