63th course on Palladian Architecture


MY ARCHITECT

3 - 7 October 2021. 10 online lectures
Studying a special architect inevitably means becoming devoted to his life and his works, developing a bond. In the 63rd edition of the Palladian Course, ten international scholars will each present their "own" architect; the one who has been particularly congenial for them and an important part of their studies.
Once again, this year the course will be in an online format, live from major research institutes and universities worldwide.
The total cost is € 200 (including VAT). The lectures can be followed live or any time over the following thirty days.
Scholars under 40 with a master's or specialist degree obtained from 2011 onwards can apply for a scholarship by filling in the appropriate section of the application form.
Languages: Italian and English.

In collaboration with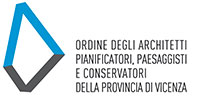 Program
Sunday 3 October
6:30pm-7:15pm
Howard Burns, Scuola Normale Superiore, Pisa
Leon Battista Alberti (ENG)
7:30pm-8:15pm
Bianca De Divitiis, Università Federico II, Napoli
Architetti dimenticati (ITA)
Monday 4 October
6:30pm-7:15pm
Deborah Howard, University of Cambridge
Mauro Codussi (ENG)
7:30pm-8:15pm
Francesco Paolo Fiore, Università La Sapienza, Roma
Francesco di Giorgio Martini (ITA)
Tuesday 5 October
6:30pm-7:15pm
Cammy Brothers, Northeastern University, Boston
Michelangelo and Giuliano da Sangallo (ENG)
7:30pm-8:15pm
Arnold Nesselrath, Roma
Raphael (ENG)
Wednesday 6 October
6:30pm-7:15pm
Jean-Louis Cohen, New York University Institute of Fine Arts, New York City
The Constructivists (ENG)
7:30pm-8:15pm
Giovanna Borasi, Canadian Centre for Architecture, Montreal
The Other Architect (ENG)
Thursday 7 October
6:30pm-7:15pm
Sara Galletti, Duke University, Durham
Philibert de l'Orme (ENG)
7:30pm-8:15pm
Guido Beltramini, CISA Andrea Palladio, Vicenza
I due Palladio (ITA)