64th Course on Palladian Architecture

The Palladio Project: understanding functions, changing forms, transforming life

Vicenza + Veneto, 31 August - 6 September

coordinated by Guido Beltramini and Howard Burns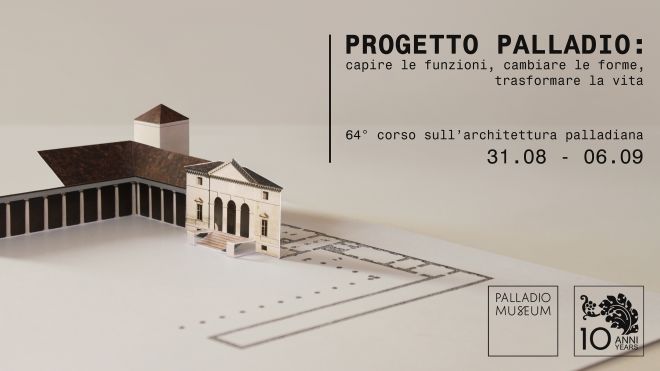 Since 1958, this now classic course has offered the opportunity to visit Palladio's major buildings. The 2022 edition will focus on the types and functional aspects of Palladio's architecture in a fresh look at the subject.
The course consists of seven days of visits, lectures and workshops. The visits are organised as seminars inside the buildings, with the aid of dossiers illustrating Palladio's designs, his plans and sections for the architecture in question, and reference models. Classroom lectures deal with general themes of Palladio's overall production. In the workshop called the "Palladio Lab", participants are asked to try out the different methods of investigation for themselves: how can we read a building by starting from its walls? What does the direct observation of an autograph Palladio drawing tell us?
The course is addressed to architectural historians, architects, engineers, art historians and anyone interested in learning about Palladio's buildings and their materials.
Program
_Wednesday 31th August
Palladio Museum, Vicenza:
Howard Burns (Emeritus Scuola Normale Superiore di Pisa), Progetto Palladio: capire le funzioni, cambiare le forme, trasformare la vita
Donata Battilotti (Università di Udine), Cosa sappiamo davvero: gli inventari degli oggetti presenti negli edifici palladiani
Guido Beltramini (CISA Andrea Palladio, Vicenza), Palladio nel Palladio Museum.
welcome light lunch
Visite (Vicenza) [curated by Howard Burns and Francesco Marcorin]: palazzo Thiene in contra' S. Gaetano, palazzo della Ragione e Logge, palazzo Chiericati, palazzo Civena, palazzo Arnaldi in contra' Pasini, palazzo Porto Colleoni, palazzo Iseppo Porto, Ca' d'Oro.
7pm, Palladio Museum, Vicenza:
Antonio Foscari (Università Iuav di Venezia) presents his book, Vivere con Palladio nel Cinquecento (2020), welcome drink will follow.
_Thursday 1st September [curated by Donata Battilotti]
Visite (Vicentino): villa Trissino a Cricoli, villa Godi a Lonedo, villa Porto a Molina di Malo, villa Valmarana a Vigardolo, villa Thiene a Quinto e villa Valmarana a Lisiera.
_Friday 2nd September [curated by Guido Beltramini and Howard Burns]
Visite (Veneziano e Rodigino): villa Foscari "la Malcontenta" a Mira, villa dei Vescovi a Luvigliano, villa Badoer a Fratta Polesine, villa Garzoni a Pontecasale.
_Saturday 3rd September [curated by Damiana Paternò, Guido Beltramini and Howard Burns]
Visite (Vicentino): PalladioLab a villa Gazzotti a Bertesina, villa Saraceno a Finale, Ca' Brusà ad Albettone, villa Poiana a Poiana Maggiore, villa Repeta a Campiglia dei Berici.
_Sunday 4th September [curated by Elena Svalduz]
Visite (Trevigiano): villa "La Rotonda", villa Cornaro a Piombino Dese, villa e tempietto Barbaro a Maser, villa Emo a Fanzolo.
_Monday 5th September [curated by Gianmario Guidarelli]
Visite (Venice): palazzi sul Canal Grande, chiesa del Redentore, complesso di San Giorgio Maggiore, convento della Carità, chiesa di San Francesco della Vigna.
_Tuesday 6th September
Howard Burns, Seminario sui disegni palladiani.
Visite (Vicenza) [curated by Howard Burns and Francesco Marcorin]: casa Cogollo, Teatro Olimpico, cappella Valmarana in Santa Corona, palazzo Porto in piazza Castello, palazzo Thiene Bonin Longare, palazzo Valmarana, Cattedrale, loggia del Capitaniato.


For those registered by June 30th, the registration fee is € 650.00 + VAT (22%). After this date the fee is € 700.00 + VAT (22%). Registration deadline Monday 22nd August.